I will build your wix website or design and redesign a wix website online store with unlimited revision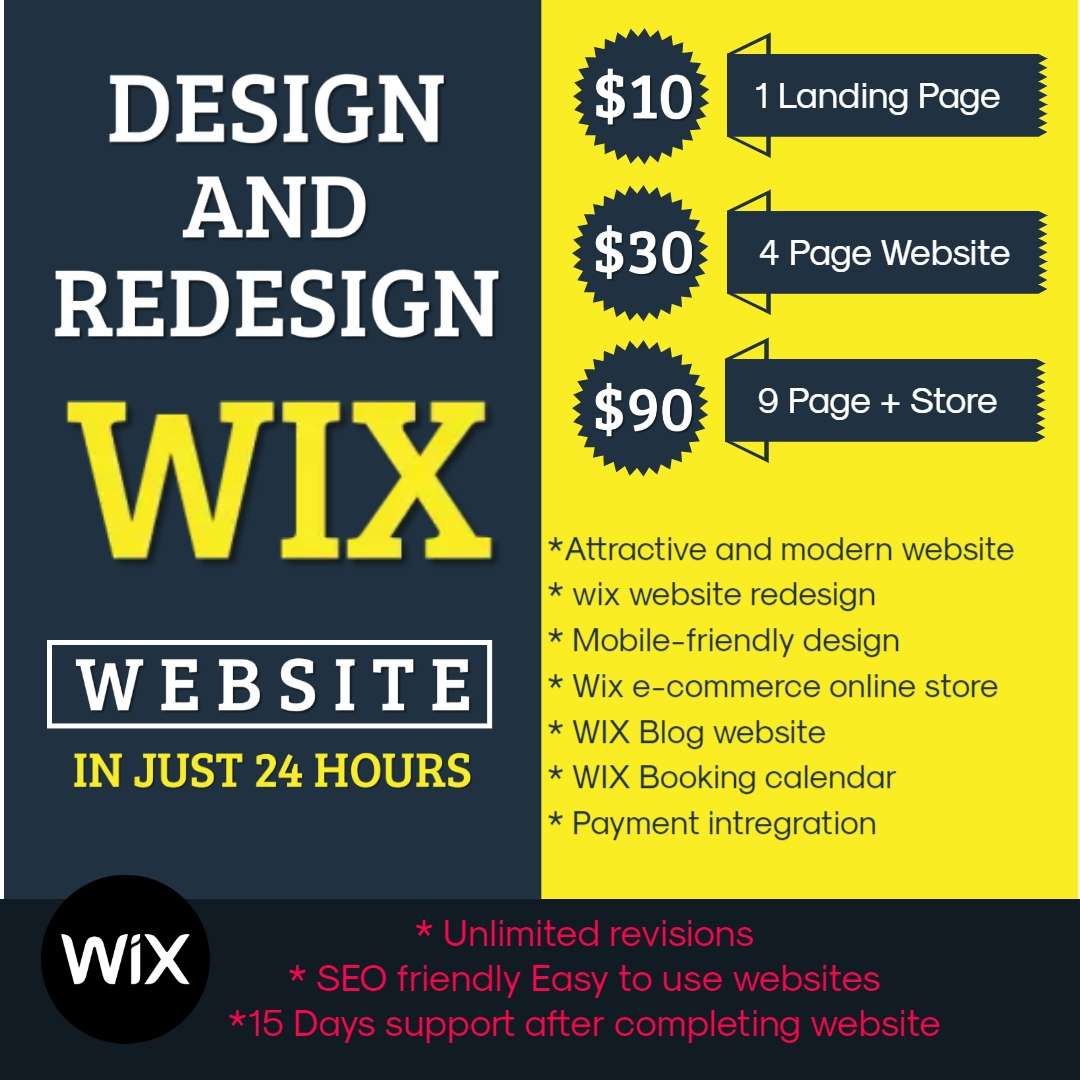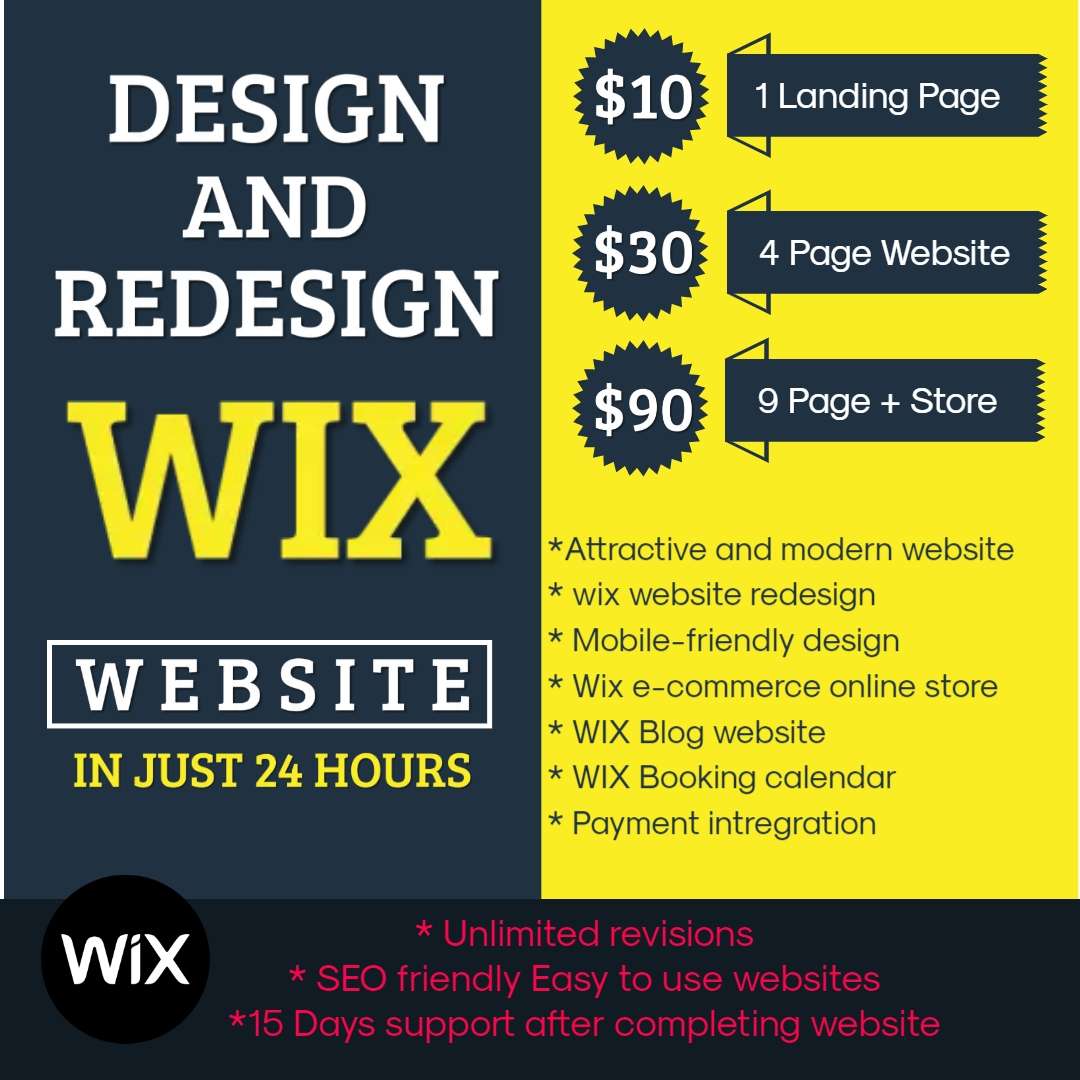 I am Mujeeb Wix Genie.
Expert Wix Web Designer available to provide one mile extra from your expectations, whether it's Wix landing page, WIX Website Design or Redesign. You will be assisted here with Wix and Shopify whatever you using or prefer. You will get an SEO-optimized and mobile-responsive website. 
I am open for consultation, Let's Connect! 
About Me : I am an certified wix website designer and Shopify store expert. The website design I create, are all according to the client's preferences and well optimized for SEO. I always include mobile responsiveness in site when working on any, 
I was extremely pleased with Mujeeb skills, talents, and work ethics. He did everything I asked in updating my website and even contributed great suggestions and ideas. His expertise was remarkable and a very trustworthy individual. You, definitely, will not be disappointed if you decide to go with his services!
Mujeeb did a fantastic job of producing an eye-catching Wix website within just a few short days. His skills are excellent as the website works really well. He was great at keeping us informed of progress through every step, seeking clarification and feedback, and was very responsive to ideas and suggestions. Highly recommend him for the quality of his work and professionalism
Mujeeb has been extremely proactive and engaged throughout our whole collaboration. He is very professional, has excellent communication skills, and can implement what he is requested accurately and quickly. He is very open to feedback and changing directions when needed. It was a pleasure working with him, and I strongly recommend his services. I will certainly rehire him in the future.j!
Mujeeb delivered good work on this website development project and I enjoyed working with him. His communication was top-notch, he met all deadlines, and his skills were reasonably strong. He was very patient with me as I was taking extended time to respond due to a very busy schedule. Still, Mujeeb was understanding and worked hard to accommodate me once I responded. I enjoyed working with Mujeeb and will likely have additional jobs for him in the future.
They are my expertise :
 Attractive & Modern WIX Website Design 
 100% Mobile Responsive Design 
 Wix Velo Code Developer 
 Wix Redesign Work 
 Wix blog website 
 Wix Ecommerce Online Store 
 Custom filters in Product stores 
 Clone/Copy Any Website 
 Mobile Responsive 
 Wix Booking Calender 
 Wix Events RSVP
 Payment Integration 
 Wix Blog Setup 
 API Integration 
 Social Media Integration 
 Wix SEO Wiz 
 Google Analytics Integration 
 Wix Email & Marketing Automation 
 HTML Embedding 
 Wix Website Loading Speed (Optimization) 
 Website Maintenance
I make sure that my developed websites are mobile optimized, and optimized for all screen sizes. I can really assist you in developing your own business, blog, freelancing, classified, forum or any type of business website. 
Let's get connected and start working together
Mujeeb Najeem
Best regard 
More Gigs from Najeem Mujeeb